On August 28, with the approval of the State Council, China Guodian Corporation and Shenhua Group Co., Ltd. merged and reorganized into National Energy Investment Group Co., Ltd. According to estimates, the total assets of the new company will exceed 1.8 trillion yuan, and the total power generation capacity ranks first in the country. This is also the largest central enterprise mergers and acquisitions since the establishment of the State-owned Assets Supervision and Administration Commission.
Shenhua's "Callout" can be "debuted", indicating that China's energy companies are doing their best to make a big article on transformation and upgrading and supply-side structural reforms, to enhance the competitiveness of the international market, and to truly make the central enterprises stronger and bigger, and to drop internships. Entrusted.
"We can completely turn black coal into 'green'. Not only do I have confidence, but our cadres and employees are also full of confidence." Seeing the "Economic Daily" reporter, Ling Wen's speech came to the fore and full of confidence. The Chinese Academy of Engineering, he moved to the energy sector from the financial field, is the general manager of Shenhua Group. In his view, it is not worth showing off that Shenhua can create a profit of 200 million yuan a day. What is truly worthy of pride is that they are carrying out a profound energy revolution to make the black coal "green".
In recent years, Shenhua Group has vigorously implemented the clean energy development strategy, and has adopted the concept of "clean, efficient, low-carbon" throughout the entire industrial chain of coal mining, processing, utilization, transformation, and comprehensive recycling, and has moved toward the world's leading clean energy enterprises. The merger and reorganization will inject new impetus and vitality into the Group's further promotion of coal-electricity integration and implementation of clean energy development strategy.
Do a good job in coal
Dispatch center located in the North Second Ring Road in Beijing's Shenhua Group's headquarters building, the big screen can look at it all over the country's coal mines, power plants, ports, railways and other self-employed real-time production schedules, and even see a The ongoing operation of the team leader and the high level of management modernization are evident.
Before the merger and reorganization, Shenhua Group is the largest and most modern coal enterprise in China and the largest coal supplier in the world. Coal is a traditional energy source with a long history and is also the main energy source of China. Although the role of this subject is gradually weakening, its status is still irreplaceable.
However, as China's economic development has entered a new normal, social and economic structures, energy supply and consumption structures have changed. The people's awareness of environmental protection has been continuously enhanced, and the environmental pressures on traditional fossil fuels, especially coal, are increasing. The central leadership has repeatedly proposed that we should vigorously promote the clean and efficient use of coal, let energy production and consumption move toward clean and low-carbon directions, and do a good job in coal. "We are facing the dual challenges of energy structure adjustment and environmental protection, and can no longer rely on the traditional development model of scale expansion. Accelerate the transformation of development mode, realize the harmonious development of economy, society and ecology at a higher level is to achieve sustainable development of energy enterprises. The only way to go." Ling Wen said.
Shenhua Group put forward the "1245" clean energy development strategy, aiming at building a world-class clean energy supplier, accelerating "transforming development concepts, transforming development methods" and promoting "safe development, transformational development, innovation and development, and harmonious development". Development, focus on five improvements, namely, "improve the quality and efficiency of enterprise development, improve the management level of enterprises, improve the ability of internationalization, improve the soft power of enterprises, and improve the ability to fulfill social responsibilities." On this basis, accelerating industrial transformation and upgrading, achieving clean development, green development, and low-carbon development not only responded to the public's demands for ecological environmental protection, but also complied with the state's policy orientation of promoting clean and efficient development and utilization of coal.
Innovation leads intensive mining
Under the guidance of the "1245" clean energy development strategy, Shenhua Group explored a new model of green development in the coal industry, and the concept of "clean, efficient, low carbon" was used in coal mining, processing, utilization, conversion, and integrated cycle. And the whole industry chain, to achieve "four transformations": from resource-driven to innovation-driven transformation; from fuel to fuel, raw materials to pay equal weight; from relatively extensive development to intensive green, connected intelligent way; from traditional high-emissions utilization Ultra-low emission clean and efficient way to change.
Sitting in a modern office, you can monitor the scene of the fully mechanized mining face of Jinjie Coal Mine, 800 kilometers away. This is the normal state of Shenhua Group's daily operation management.
Through the large screen of Shenhua Group headquarters dispatching command center, the reporter saw that in the 31406 fully mechanized mining face of Jinjie Coal Mine, the high-speed rotating shearer is cutting coal, and the entire working surface has been fully automated. According to the staff, the cut coal is directly sent to the coal washing plant workshop through a fast-running Belt Conveyor and will be stored in a large silo. When it is shipped, it is transferred to the quantitative warehouse truck through the belt. There is no barely stacked coal on the ground of the entire mining area, which completely realizes that "the coal is not seen in coal" and the environment is cleaner.
At present, Shenhua Group has a total of 77 coal mines, with an approved design production capacity of nearly 600 million tons/year. In recent years, Shenhua Group has accelerated the construction of safe, efficient and intelligent mine construction, and the integration of informationization and industrialization has become increasingly high. At present, the comprehensive energy consumption of Shenhua Group's raw coal production is only about 2.7 kg of standard coal/ton, reaching the world's advanced level.
The exploitation of coal is almost inevitable for the disturbance of the ecological environment. Shenhua Group has always implemented a clean and efficient development strategy, and the concept of green development has been integrated into the entire industrial chain of coal mining, processing, utilization, transformation, and comprehensive recycling. In the coal mining sector, efforts have been made to reduce disturbance to the external environment.
Shenhua's Heiqigou Open-pit Coal Mine is located in Zhungeer Banner, Erdos City, Inner Mongolia. Open-pit coal mining has the advantages of low stripping cost, low energy consumption and high efficiency. However, in the mining, it is necessary to peel off the rock and covering over the coal seam, occupying a large amount of land, which easily leads to the destruction of the original surface topography and geomorphology, the original soil structure is disturbed, and the ecological environment protection function is greatly reduced.
Yang Hanhong, Chairman of Shenhua Zhuneng Group, said that Heifugou Coal Mine adheres to the principle of "Ecological Environmental Protection and Equal Development of Coalfield Development", and fully implements the principle of "three simultaneous" development and construction, ecological protection and soil and water conservation, so that the original gully landscape appears. A fundamental change. The former barren hills have now become artificially ecological areas with vegetation cover and lush vegetation, and the ecosystem is developing in a virtuous circle.
The results of the recycling and utilization of groundwater resources have also made the Shenhua people relish. Zhao Yongfeng, general manager of the coal production department of Shenhua Group, said that the water shortage in the northwest is very serious. In the underground coal mining, groundwater should be used. For this reason, Shenhua Group uses the super-large working face to mine the natural boundary of the underground goaf and the uniformity of the rock mass. In Daliuta Coal Mine, Shangwan Coal Mine, Bulianta Coal Mine, and Yijia 35 coal mines such as Liang Coal Mine have built 35 underground water reservoirs, each with an average water storage capacity of about 714,000 cubic meters. At present, the overall water storage capacity reaches 24.995 million cubic meters, and the historical maximum water storage capacity reaches 31 million cubic meters, basically solving the coal mine in Shendong mining area. In the production of water supply, drainage, sewage treatment and flood control problems, the water reuse rate in the mining area reached 72%, resulting in huge economic and social benefits.
Today's Shenhua, the mining rate of open pit mines and mines and mining areas are 98% and 85% respectively, so that green mining and clean production can be achieved.
Clean energy accelerates scale
In the Shenhua Group's Yanhua Economic and Technological Development Zone in Sanhe City, Hebei Province, the Guohua Sanhe Power Plant, the office building and other prominent places are erected with electronic screens, clearly showing the dust and sulfur dioxide of four coal-fired units in Sanhe Power Plant. Real-time emission values ​​for nitrogen oxides and national standards for natural gas power generation emissions.
After the completion of the energy-saving and environmental protection comprehensive upgrade of the four units, compared with the discharge of coal-fired power plants, the annual emission reduction of 508 tons of smoke, 1,169 tons of sulfur dioxide and 2,185 tons of nitrogen oxides will reduce emissions by 85.3% and 60.5% respectively. 88.9%, which is lower than the recognized emission standard for clean energy natural gas power generation.
Assistant General Manager of Guohua Power Company and Zhang Yi, general manager of Sanhe Power Plant, told reporters that accelerating the green smart upgrade of thermal power is the focus of implementing Shenhua's clean energy development strategy. In 2012, Shenhua Group ranked among the fifth largest thermal power generation enterprises in China. On the one hand, all new technologies were used in new units to build efficient and clean coal-fired benchmark power plants. On the other hand, the existing units were upgraded to meet ultra-low emission standards. . In 2016, Shenhua Group's coal-fired power plants in the Beijing-Tianjin-Hebei region have all achieved "ultra-low emissions".
The pace of development of Shenhua Group in the field of coal chemical industry is also accelerating. At the end of last year, Shenneng Coal Industry Group's 4 million tons indirect liquefaction project successfully produced oil. The oil product line A of the Ningmei Coal-to-Oil Project has achieved continuous safe and stable operation.
At present, Shenhua Group owns two technologies of direct liquefaction and indirect liquefaction of coal. It has formed a complete system in the field of coal-to-liquid chemical industry, becoming the largest coal chemical enterprise in China and the largest producer of coal-to-liquid chemical products in the world.
Shenhua also vigorously promotes the scale of clean energy, and the new energy industry is booming. In the first half of this year, Shenhua Group added 190,000 kilowatts of wind power and solar power, and the total installed capacity of new energy reached 8.28 million kilowatts.
While continuing to promote new energy industries such as wind and light, Shenhua has also carried out useful explorations in strategic emerging industries, such as actively promoting the development of CIGS thin-film solar technology and project platform, and the successful development of Chongqing CIGS thin-film solar module project. Signed a strategic cooperation agreement with major nuclear power companies in China, and conducted business exchanges with Tara Energy Corporation of the United States; completed the basic research on the development of Shenhua hydrogen energy industry, and discussed cooperation with demonstration projects such as hydrogen fuel and hydrogen energy vehicles in some cities.
In addition, Shenhua also pays close attention to the implementation of energy-saving and environmental protection industrialization, and provides support for the realization of Shenhua's green energy dream. Energy conservation and emission reduction has risen from the endogenous requirements of Shenhua's clean development to the level of industrialization. At the end of 2013, Shenhua Group established China Energy Conservation and Emission Reduction Co., Ltd. With this platform, Shenhua is in desulfurization, denitrification, water treatment, frequency conversion and energy conservation. A lot of business has been carried out in terms of green lighting, waste heat and residual pressure utilization.
"Shenhua will continue to vigorously promote the construction of resource-saving and environment-friendly enterprises, form a group of core technologies with independent intellectual property rights in key areas of energy conservation and environmental protection, and establish an integrated operation business model covering the entire industry chain of energy conservation and environmental protection." Ling Wen said .
Wuhan Wide Uv Led Inkjet Printer widely used in different material direct printing, like glass, ceramic, metal plate, wood, acrylic panel, KT board, PVC sheet, Melamine Sheet, Marble Board, plastic film, leather, textile etc.
We Flatbed Uv Printer adopt industrial level printing head toshiba and Richo, Printing speed reach 34M/M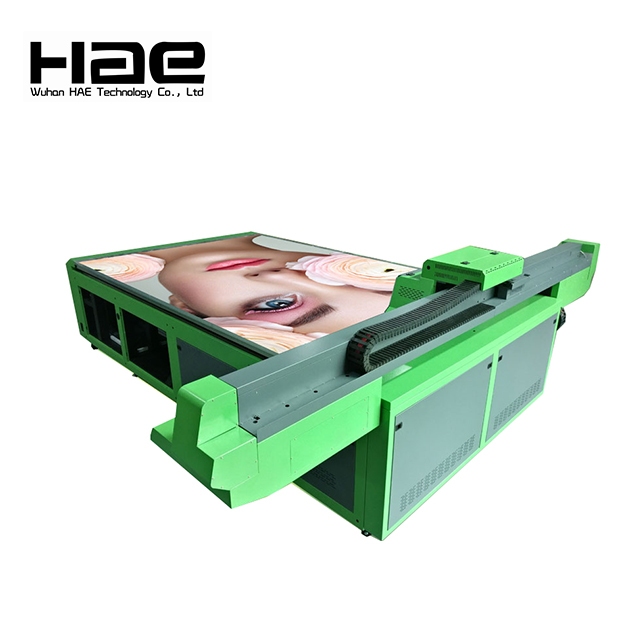 Uv Flatbed Printer,Flatbed Printer,Digital Uv Flatbed Printer,Digital Flatbed Printer
Wuhan HAE Technology Co., Ltd. , https://www.chinahae.com