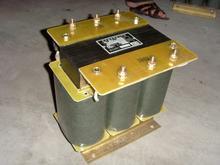 How Isolation Transformers Work

What is the working principle of the isolation transformer? The working principle of the isolation transformer is the same as that of the ordinary transformer. All of them use the principle of electromagnetic induction. The following is a detailed introduction for the customer, hoping to help you.
Isolation transformers are not all 1:1 transformers. Power supplies for controlling transformers and tube equipment are also isolation transformers. Power supplies such as tube amplifiers, tube radios, and oscilloscopes and lathe control transformers are isolation transformers. For example, a 1 to 1 isolation transformer is commonly used for the maintenance of color TVs. Isolation transformers are used more often and are also used in air conditioners.
Although there is an isolation circuit between the primary and secondary windings of the transformer, the capacitance between the two windings can still cause static interference between the two circuits at high frequencies. To avoid this interference, the primary and secondary windings of the isolation transformer are generally placed on different stems to reduce the capacitance between the two; the primary and secondary windings are also placed concentrically but are added between the windings. Electrostatic shielding for high anti-interference properties.
Electrostatic shielding is to set a piece of non-closed copper or non-magnetic conductive paper between the original and secondary windings, which is called shielding layer. Copper or non-magnetic conductive paper is connected to the housing with wires. Sometimes, in order to obtain better shielding effect, a shielded enclosure is also covered in the entire transformer. The winding lead terminals are also shielded to prevent other external electromagnetic interference. In this way, the primary and secondary windings can only have magnetic coupling, and the equivalent capacitance between them can be less than 0.01 pF, which greatly reduces the capacitance current between the primary and secondary windings, effectively suppressing the power supply and other circuits. Various kinds of interference.
Carbon fiber 3D Printer Filament 35 types 45 colors 1.75mm 2.85mm 3mm abs pla filament
Product introduce:
PLA filament:
Carbon fiber 3d printer filament, this is the best filament on the market.The 1.75mm filament holds a diameter tolerance of 0.02mm/0.0008" which improves reliability and quality of output and comes vacuum-sealed with the desiccant on a 1kg (2.2lb) reel.
3D Printer Filament Materials PLA allows higher print speed, more accurate placement of material with proper cooling (it does not shrink as much) and also thinner build heights because of less resistance from the plastic coming out the nozzle.

Compatible 3D Printers:
3D Printer Consumables suitable for Makerbot,RepRap, UP, Flashforge, Leapfrog, Ultimaker,Printrbot and any other FDM 3D printer!

Color what we have for ABS & PLA filament
Basic color: White,Black,Red,Blue,Yellow,Green,Nature,
Other color: Silver,Grey,Gold,Pink,Purple,Orange,Yellow gold,Wood,Chrismas green,Galaxy blue,Transparent
Fluorescent series: Flurescent Red, Flurescent Yellow, Flurescent Green, Flurescent Blue
Luminous series: Luminous Green, Luminous Blue
Color changing series : Blue green to yellow green, Blue to white,Purple to Pink,Grey to White
Accept customer PMS color

KEYUACE 3D Printer Filament Catalog And Parameter
Material: PLA ABS ABS-CE HIPS PP Nylon PETG Wood Flexible Rubber PVA
Color: 31 26 26 15 25 4 5 1 8 1
Printing Temp: 190-220 200-240 210-240 190-230 210-260 210-240 230-260 200-230 200-230 190-240
Net Weight: 1KG 0.8KG 0.5KG 0.5KG, 0.25KG
Spool size out diameter: 180mm+ inner diameter 57mm + Reel diameter 95mm
Diameter: 1.75mm and 3mm
Tolerlance roundness: +/- 0.02-0.04mm
Compatible with Makerbot,UP,Afinia,Leapfrog Creatr,Builder,Reprap,Ultimaker and any other FDM 3D Printers
Similar Makerbot Makerbot / Makerbot / / Taulman Laywood Makerbot /
Certification Rohs,SGS,MSDS
Application Education; Engineering; Entertainment;Orthopedics etc.
Shipping information:
Shipping Weight: 1.35KG
Spool Diameter: 180mm
Net Weight: 2.2lbs/1kg
Spool Width: 72mm
Box size: 190x190x85mm
Hub Hole Diameter: 38mm l 60mm
Carton pack:12 spools
Carton Size: 290x390x390mm
Quality control:
a) All of our 3D printer filaments are 100% virgin material,never use recycled material or regrind material,and all had achieved the latest certificate.
b) Before the mass production,our engineer always do the test to make sure that each batch of new raw materials must be printed by 3D printer.
c) The Laser diameter runs automatically to control the diameter of the filaments and keeps it in a right range of 1.75/3.0mm,and our engineer will adjust it immediately when it alarms to indicate of wrong size,and this unqualified filament will be cut off and never use it.
d) To keep the filaments dry,each roll of filament is packed in a vacuumed polybag with a desiccant inside of it.

Product images: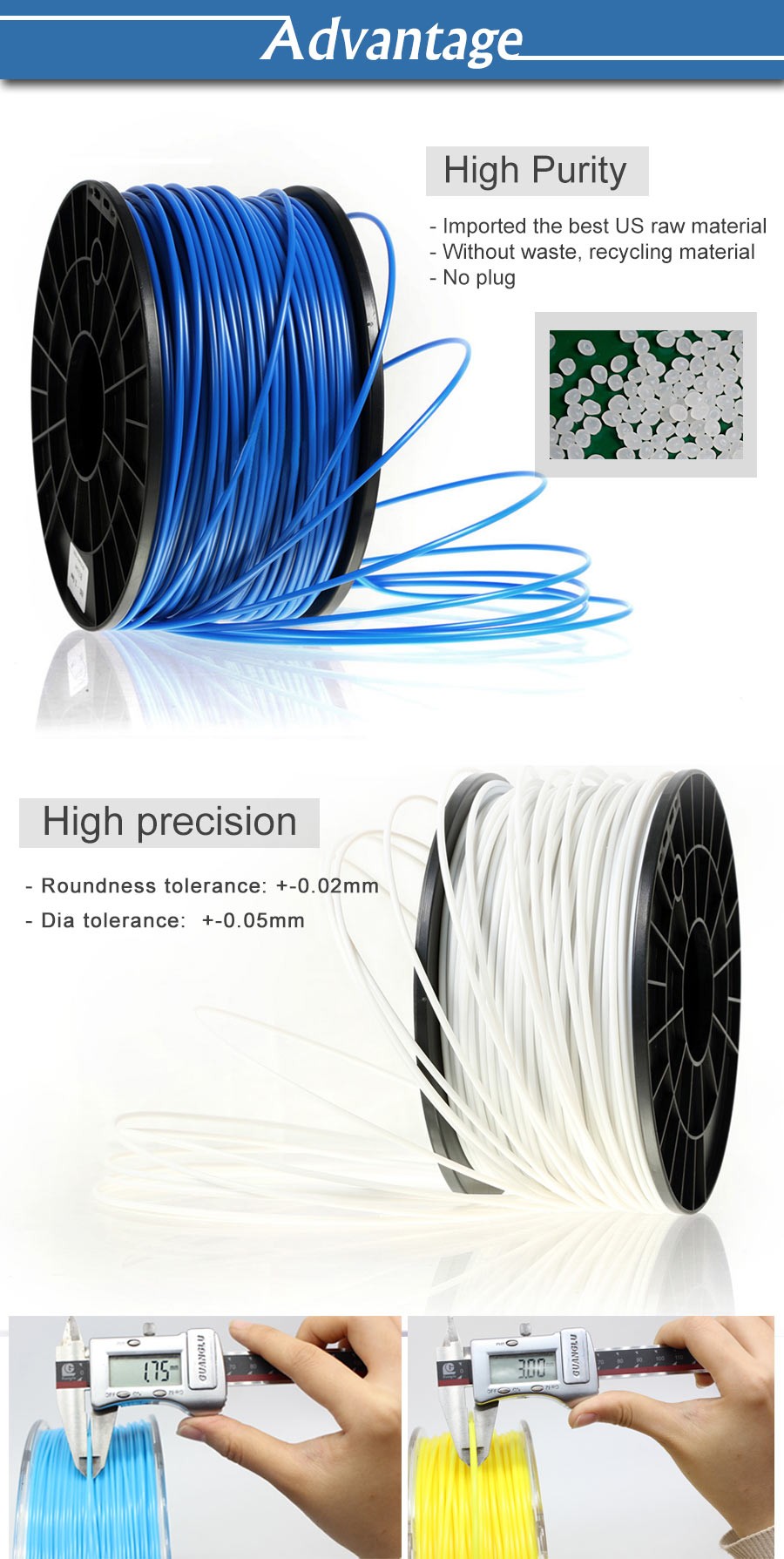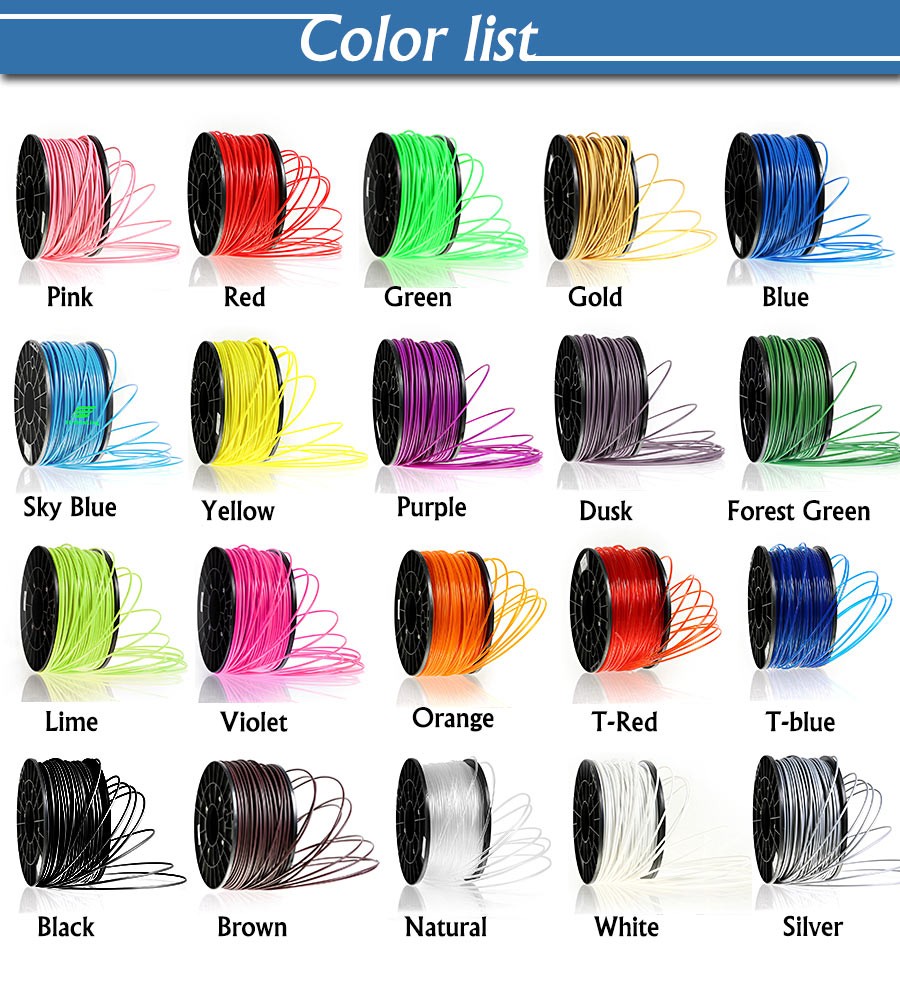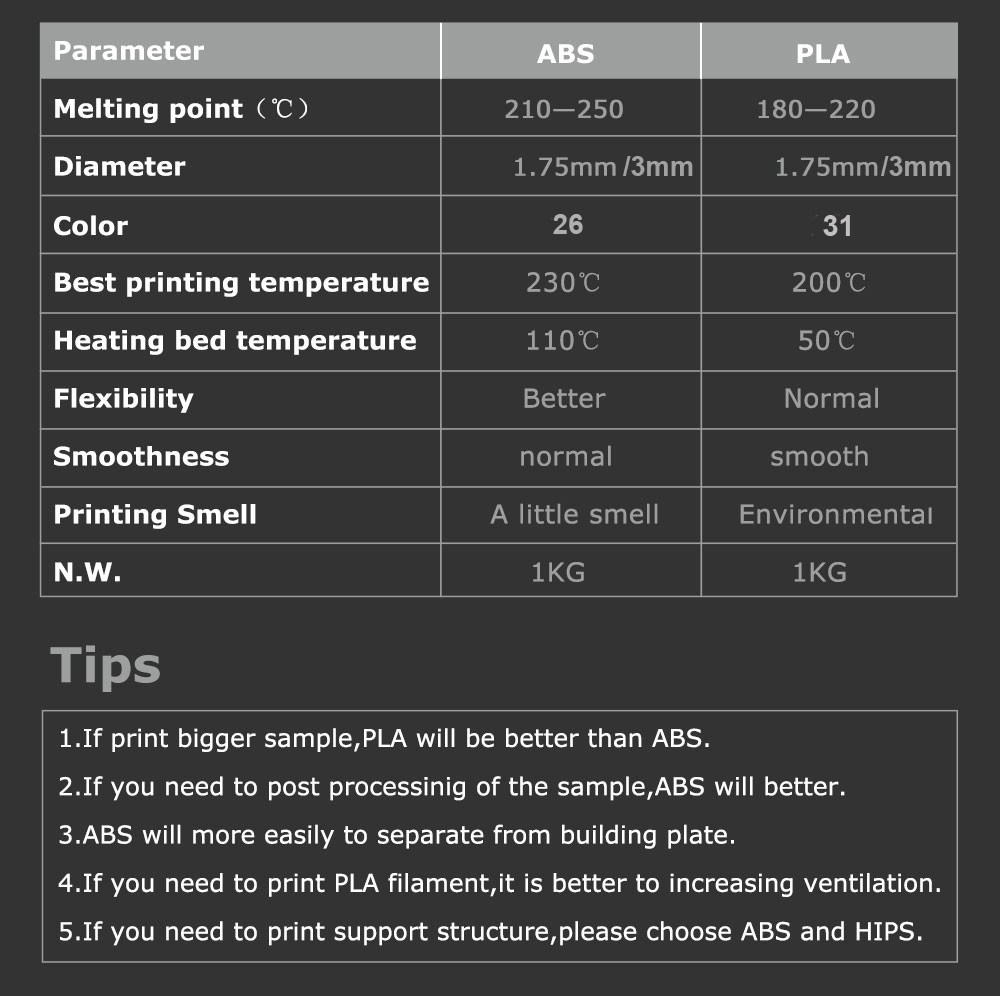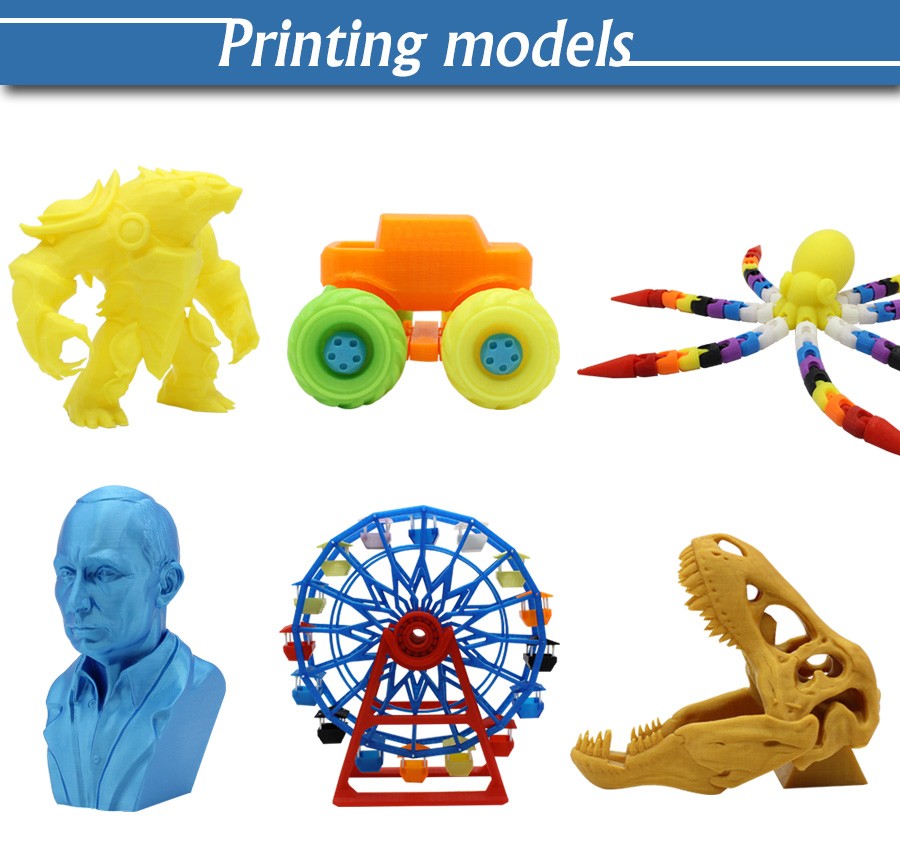 3D Printer Filament
3D Printer Consumables,High Temperature 3D Filament,3D Printer Filament Materials
KEYUACE Materials Co., Ltd. , http://www.insulationtubing.com